The Australian Financial Review (AFR) has recognised Momentum Media (Momentum) for its speedy conceptualisation and delivery of a platform to ensure the continuity of its business awards programs during the COVID-19 pandemic.
Momentum was ranked as one of Australia's Most Innovative companies by the AFR – and the only media and events business to make this year's list.  
It was Momentum's swift adaptation to a dislocated events environment that earned its recognition as one of the best examples of innovation this year by the AFR.
The COVID-19 pandemic hit Australia with such ferocity that in a matter of days a number of industry sectors, such as aviation, tourism and hospitality, were decimated, while others struggled to keep pace with a rapidly changing situation.
As one of Australia's largest business events companies, Momentum was in the epicentre of the COVID-19 crisis, but was quick to evolve, transforming its business awards into live streamed events.
THE BALLROOM is a piece of tech that combines a range of platforms, processes and utilities to deliver an Australian-first live-streamed interactive business awards experience. It was the development of this tech that earned Momentum its recognition as one of the nation's leading innovators.
Alex Whitlock, director, Momentum Media, likened the iPhone's ability to aggregate a range of pre-existing utilities (email, telephone, internet) with a slick UX/tech overlay to the core function of THE BALLROOM.
"Rather than a one-way transmission, THE BALLROOM facilitates an immersive live awards experience," said Whitlock.
"We do this by delivering 'traditional' business awards with over 30 categories via THE BALLROOM. This enables us to connect finalists, their friends and colleagues with other participants, the industry as a whole, including our sponsors.
"We connect the winners with everyone attending – sometimes running into the thousands – in an up close and personal manner through live streamed video. This has never been done before in Australian business awards and it's an amazing experience."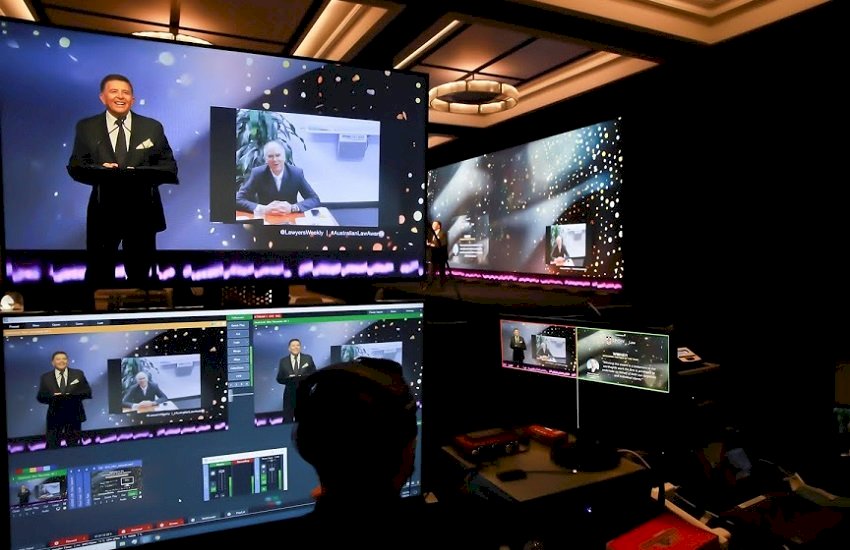 Major step forward
Whitlock added that the development and launch of THE BALLROOM has been a game changer for Momentum and its audiences.
"Previously, we were shackled to specific geographic locations to host our awards, now it is borderless.
"We can now connect and engage with finalists and participants nationwide and internationally, ensuring inclusiveness and backing our communities to excel in this environment irrespective of any localised COVID-19 conditions or restrictions," he said.
While COVID-19 was the catalyst for evolution, THE BALLROOM has been the utility for transforming the way we deliver business awards, Whitlock continued.
"We're more connected with our audiences and communities than ever before.
"The depth of our relationships, matched with the knowledge of our sectors, world class content production and a direct digital conduit into the offices and homes of Australia's professional communities, means we're in a unique position to thrive," he said.
Seamless execution of strategic agenda
Whitlock was quick to back Momentum's ability to deliver to its communities during COVID, with a clear strategy set in March this year to ensure continuity of its events business, despite restrictions to in-person events.
"The speed at which this crisis unfolds domestically and globally has deeply impacted everyone as we try and keep events in perspective while looking towards a return to normality," he said at the time.
"While we have little control over the conditions we find ourselves in, we can adapt to the environment – and Momentum is in a strong position to ensure we keep our communities connected, engaged and better informed.
"We're going to press ahead across our awards programs and deliver them as live broadcasts. That means we'll undertake our awards nomination and submission processes based on our usual timings.
"We'll also have greater bandwidth and creativity to reveal our finalists, highlighting the secrets of their success, telling their stories and profiling their organisations to support business growth," he said.
Whitlock said that setting this clear strategic agenda, and delivering it via the development of THE BALLROOM, was testament to the depth of talent at Momentum matched with a positive can-do attitude that excels in a time of crisis.
"Our team – executives, event production, sales, engineering and marketing – interpreted the challenges posed by COVID as an opportunity to get behind our communities.
"With the nation in lockdown, we are bringing our communities together during the biggest crisis of our generation – unifying them from their lounge rooms, dining tables, boardrooms and offices across the nation, helping them to engage, network and celebrate success," he said.