Australian Aviation's Adam Thorn reflects on securing one of the biggest interviews of his career with Virgin Australia boss Paul Scurrah as the airline exits voluntary administration.
The format of the Australian Aviation podcast is straightforward enough: each week, Phillip Tarrant, as host, talks through the biggest Aviation stories of the week with me, the brand's deputy editor. Sometimes we're also joined by our chief pilot Christian "Boo" Boucousis. 
The idea is to give a bit of analysis to the glut of news stories raining down on us and make sense of how the industry is navigating its way through COVID-19 – the most significant crisis it's ever seen. 
With everything happening at an eye-popping, breakneck pace, we often don't get a chance otherwise to take stock of the significance of each announcement and how it slots into the greater narrative. 
On the 9 September edition, we were chatting about Virgin Australia re-emerging from administration and its plan to get back on its feet – or should that be in the air – and challenge Qantas once more. 
I happened to mention that I felt the current Virgin CEO, Paul Scurrah, had done an excellent job in challenging circumstances. If dealing with standing down nearly all of his employees wasn't enough, I argued, he then had to navigate the maze of feisty unions, strict administrators and a host of potential new owners. All of whom had radically different ideas of what direction the business should take.
Scurrah held his nerve and – against all expectations – managed to convince pretty much everyone to buy into his pooh-poohed upon strategy of not dragging the business downmarket to become a dirt-cheap, pure low-cost carrier. He did it so well that the new owners surprisingly kept him, and his entire top team, on to lead the comeback.  
And then, quick as a flash, Phil responded that we would no doubt have him on the podcast very soon to chat through the story himself.
Now, at this point, I distinctly remember thinking Phil was mad! There was no way, I thought, Scurrah would be listening. Why? Well, because not only did we launch the podcast back in March, but we only acquired and relaunched the Australian Aviation as a company back in February. Before then, I didn't, frankly, know my widebody from my actual one.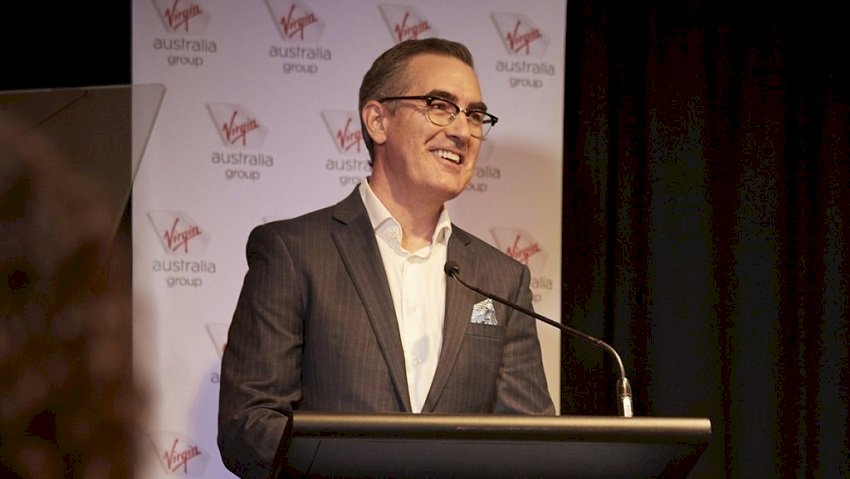 The plan, initially, was to slowly ease ourselves into being the new custodians of a famous brand, but that went into a tailspin when, just weeks later, the COVID-19 whirlwind hit and grounded the sector. So, we pivoted to a new strategy: to get stuck in, right at the deep end, and try our utmost to help the industry through the crisis.
And while we weren't, back then, industry experts, we knew how to write news and record podcasts and present videos and hunt scoops and all the other stuff that lent itself to covering a big, breaking news event in 2020. We also tried to be as honest with our audience as possible: bear with us, we told them, and we'll do our darnedest to take things forward while respecting what came before.
Not only was Scurrah listening, but he got in touch to say he liked the show so much he wanted to come on straight away. It felt like a moment when six months of graft came together. 
Not only did he come on the show, but he also used it to do something he couldn't achieve in The Australian or Sydney Morning Herald or Channel 9 or the ABC: he got to speak directly to the aviation industry – our audience – and tell them the inside story of the last six months, and his plans to reboot the airline from the horse's mouth. 
He was remarkably candid and happily opened up about the personal toll it took on him, the mistakes that led to the administration, and how he was hoping to bring the airline back stronger than before.
It felt, to me at least, like a demonstration of how the media business more generally is changing. Increasingly, audiences choose to go to a specialised source, such as Australian Aviation, to get their news on the topics they're passionate about. 
It demonstrated, too, how relatively newer media companies such as Momentum can rapidly replicate – and trump – the efforts of traditional, legacy publishers. The ABC, for instance, can't put on a streamed awards ceremony, or quick-as-a-flash send a newsletter to react to the nuances of an industry they don't know much about.
"I love your podcast," said Scurrah as we finished up the episode. "And I'm more than happy to come back again and have another chat with you guys. For a couple of reasons: it tells you we're still around and we're doing a good job. And I think keeping the industry informed about what's really going on here is an important part of our future."